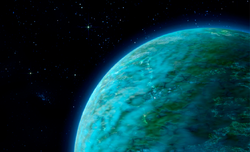 Xaava-Dal is a location in the Teenage Mutant Ninja Turtles (2012 TV Series). This is a planet that is inhabited and guarded by the Aeons. Xaava-Dal debuts in Riddle Of The Ancient Aeons
Origins
TV Show
Episodes
Gallery
The Gallery of Xaava-Dal can be see Here.
Trivia
The Utroms left a piece of the Heart of Darkness in this planet.

It is possible that they chose this planet since this planet never contained technology.

Since the Aeons became corrupted, the planet became evil.
When the planet was corrupted, anybody that stepped into this planet became corrupted as well.
It has been seen that technology malfunctions in this planet.