Timothy, aka The Pulverizer, is an ally of the Ninja Turtles. As a citizen of New York City who knows the existent of the Ninja Turtles, he is a fanboy of the Ninja Turtles who wants to become one of them. He was taught by Donatello into the ways of Ninjutsu and became a member of The Foot Clan, where he mutated himself with the Mutagen into Mutagen Man. Timothy debuts in The Pulverizer.
Origins
TV Show
He is mentioned when in an interview by Joan Grody for Muckman. Muckman stated that the child-eating turtles are a fake. He lied to her and the viewers that those were kids in costumes, like The Pulverizer.
Appearance
Personality
Powers, Abilities, and Weaponry
Episodes
Gallery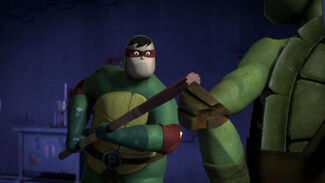 The Gallery of Timothy can be see Here.
Trivia