Spy-Roach, aka Chong or Cockroach Terminator, is an enemy of the Ninja Turtles. Formerly one of the Spy-Roaches of Donatello known as Chong, he is now a mutant cybernetic cockroach that was mutated after falling into a batch of Mutagen accidentally when spying on The Kraang. He is know after Raphael to try to destroy him after trying to destroy him. He has a rivalry with Raphael. Spy-Roach debuts in Cockroach Terminator.
Origins
Chong was being used by the Ninja Turtles for a mission of spying on The Kraang. Inside the base, Chong listened to their conversation. But when Raphael had pushed Donatello, Chong fell into a batch of Mutagen. There he mutated and fused with the metal armor around him, turning him into Spy-Roach.
TV Show
Appearance
Personality
Powers, Abilities, and Weaponry
Weaknesses
Relationships
Episodes
Gallery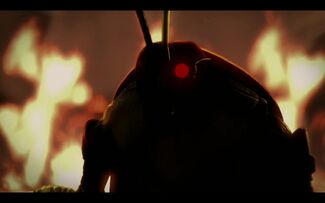 The Gallery of Spy-Roach can be see Here.
Trivia
He is a parody of the Terminator.
He has rivalry with Raphael.

This is due to the fact that he was attempting to kill him.

In Metalhead Rewired, Spy-Roach was seen as one of the prisoners of The Kraang, which was set free by Metalhead.
When he molted, he had the ability to fly since he gained wings.
He was one of the Spy-Roaches of Donatello.

Spy-Roach was actually known as Spy-Roach 1, aka Chong.

Playmates Toys released an action figure on him.

He was under the name, Cockroach Terminator, which is the titled of the episode he debuted in.

The name Chong wasn't mentioned in the show, but instead on the bio of his action figure.