"
Master Splinter taught them every single skill they need to be one lean, mean, green incredible team
"

—Theme Song
Hamato Yoshi, aka Splinter or Master Splinter, is an ally of the Ninja Turtles. He was formerly a Japanese male known as Hamato Yoshi, who was the son of Hamato Yuuta, leader of The Hamato Clan, and was the husband of Tang Shen and father of Hamato Miwa. After getting his family destroyed by his stepbrother Oroku Saki, he fled to New York City to later on buy four baby turtles and gets mutated with the Mutagen into a mutant brown rat, who later on raises the four mutant turtles as his own children. He then trained Leonardo, Raphael, Donatello, and Michelangelo (and years later the sensei of April O'Neil) through the ways of Ninjutsu, which became useful once they emerged from the Sewers and started to fight against The Shredder and The Foot Clan. Years later he learns that his daughter was Karai and then he was able to get her back into his side to fight against The Foot, until The Shredder mutated himself and assassinated him, which lead to Leonardo becoming the new sensei and leader of The Hamato Clan. He wields a cane with a sword as his signature weapon of choice. He has a rivalry with Oroku Saki/ The Shredder/ Super Shredder/ Undead Shredder and The Rat King. Splinter debuts in Rise of the Turtles Part One and Hamato Yoshi debuts in Tale Of The Yokai.
Backstory
As Hamato Yoshi
Tokyo, Japan
, and was raised by his unknown mother and his father,
Hamato Yuuta
, who was the leader of a clan that belonged to their family known as
The Hamato Clan
. Yoshi was going to lead his family's clan after his father, but he went through training years before. The ninja clan had an ancient rivalry with
The Foot Clan
, another ninja clan lead by
Oroku Keiji
, which was later on defeated by The Hamato Clan. Yuuta adopted the orphan child of Keiji,
Oroku Saki
, who was raised alongside with Yoshi and were both trained into the ways of
Ninjutsu
by their father. The two brothers had a rivalry while training, and the rivalry grew when the two of them fell in love with the same lady,
Tang Shen
. The two competed to get her, but at the end, Tang Shen chose Hamato Yoshi over Oroku Saki.
Hamato Miwa
. Later on when his father was dying and he was becoming distracted by taking care of both his family clan and his family, Oroku Saki learned the truth of his background and claimed the throne to The Foot Clan, he went after Yoshi to seek vengeance for taking Shen away from him.
Tekkō-kagi
. In the climax of the fight, Saki was about the end the life of his stepbrother with his Tekkō-kagi, until Shen interfered in the fight took the blow herself, which caused the tragic death of Hamato Yoshi's wife.
As Splinter
After Hamato Yoshi lost his family in a tragic fire in the
Hamato Dojo
, and his father
Hamato Yuuta
died, he fled to
New York City
(which was somewhere
Tang Shen
wanted to visit) to start a new life and try to move on from everything that happened to him on that tragic night. One day (once he was in New York) he purchased
four baby red-eared slider turtles
from a pet shop. When he was on his way to his house, he bumped into
a strange man
in the street, which he sensed something sinister about, causing Yoshi to follow the man into an alley.
a canister with a green substance
with other identical men, but after he accidentally steps on a rat that passed by him, he was spotted by the men and they intended to annihilate him.
Sewers
to make themselves home in
an abandoned subway station
. Renaming himself as Splinter, he then expanded
The Hamato Clan
by training the Ninja Turtles into the ways of
Ninjutsu
and raised them as his sons. He also named them after his four favorite Italian Renaissance, naming them
Leonardo
(after Leonardo da Vinci),
Raphael
(after Raffaello Sanzio da Urbin),
Donatello
(after Donato di Niccolò di Betto Bardi), and
Michelangelo
(after Michelangelo di Lodovico Buonarroti Simon). After a while of training, the Turtles were given their signature bandannas and signature weapons. Leonardo receives
his blue bandanna
and pair of
Katana Swords
, Raphael receives
his red bandanna
and pair of twin
Sais
, Donatello receives
his purple bandanna
and 6-foot-long
Bo-Staff
/
Naginata
, and Michelangelo receives
his orange bandanna
and pair of twin
Nun-Chucks
/
Kusarigama
.
History
Appearance
Personality
Powers, Abilities, and Weaponry
Enhanced Strength:
Enhanced Endurance:
Enhanced Agility:
Enhanced Smell:
Enhanced Hearing:
Intellect:
Night Vision:
Ninjutsu:
Stealth:
Teeth:
Sharp Claws:
Tail:
Swimming:
Cane:
Mace:
Kama:
Weaknesses
Mind Control:
Broken Limb:
Loss Of Consciousness:
Relationships
Episodes
As Hamato Yoshi
As Splinter
Gallery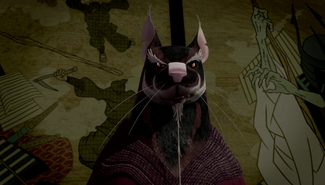 The Gallery of Splinter can be see Here.
Trivia
Unlike most of his incarnations, Master Splinter is taller than the Ninja Turtles.
Splinter's name is a spoof on the Marvel Comics character Daredevil. Matt Murdock, after being blinded by spilled radioactive waste, is trained in martial arts by a master call The Stick. "Splinter" is a spoof from this name.
His main pillars of Ninjutsu are spirit and wisdom.
Though the Ninja Turtles are getting older and mature, Splinter is still the strict and doting father as always and can humiliate the boys whenever he feels like it.