Requiem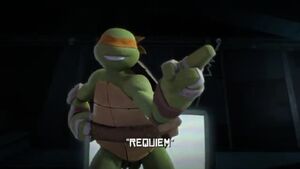 Michelangelo making an announcement in front of the television.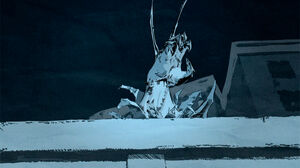 Super Shredder's bursting out through the roof of the garbage truck.
Information
Requiem is the twenty fifth episode of Season 4 of the Teenage Mutant Ninja Turtles (2012 TV Series). This episode was directed by TBA and written by TBA. This episode will be aired on February 19, 2017.
Synopsis
Splinter must lead the turtles and the Mighty Mutanimals on the hunt to defeat his old enemy.
Plot
Cast
Splinter's Wisdom
Character Debuts
Object Debuts
Location Debuts
Revelations
Continuity
Important Events
Allusions
Errors
Through out the whole episode, Leatherhead for some unknown reason is shown with green skin and the same scars he had in Season 1.
Trivia
"Requiem" is a Catholic mass meant to honor the recently deceased, which is fitting for the episode's tragic ending.
This episode aired earlier on December 30th, 2016 in South Korea.