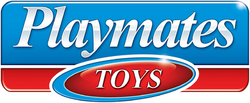 Playmates Toys
is a Company that been making Teenage Mutant Ninja Turtles toys for a while. You can buy them in most toy stores, like for example, Walmart, Toys R Us, and Target.
Origins
Playmates Toys is a Costa Mesa, California toy manufacturer and a subsidiary of Hong Kong-based Playmates Holdings Ltd (SEHK: 0635), which was founded in 1966. They are best known for there dolls, figurines and action figures, based on popular culture.
Gallery
Trivia
The cheapest toys from the TMNT toys that you can find in stores are the Half Shell Heroes basic figures and the Nick TV Series basic figures.
The Half Shell Heroes toyline is basically a toyline for little kids, like preschoolers.
Ad blocker interference detected!
Wikia is a free-to-use site that makes money from advertising. We have a modified experience for viewers using ad blockers

Wikia is not accessible if you've made further modifications. Remove the custom ad blocker rule(s) and the page will load as expected.