Parasites are enemies of the Ninja Turtles. They are little worm creatures that are used by Baxter Fly to use the Mind Control Serum. Parasites debuts in Clash of the Mutanimals.
Origins
TV Show
Episodes
Gallery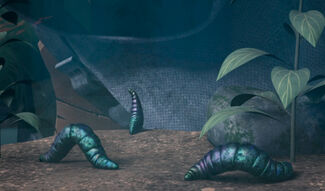 The Gallery of Parasites can be see Here.
Trivia
They were used on Slash, Monkey Rockwell, Raphael, and Karai.
Baxter Fly created the Brain Worms.

It is unknown if Mutagen was required in the process or if they were genetically created somehow.

They are only used to get the serum into its host's brain.
In the show, their gender has not been revealed.

It is possible that they are genderless.

In various episodes, they've shown various weaknesses that they have.
In Attack Of The Mega Shredder!, it was seen that Karai needed more Brain Worms, so that Shredder could mantain control of her. Also, the Ninja Turtles were able to steal at least one Brain Worm from Baxter Fly's Lab so that Donatello could create a cure for Serpent Karai.
In The Creeping Doom, Donatello was seen using the captured Parasite in his laboratory to create the cure.
In The Fourfold Trap, Splinter was able to use the Healing Hands on Serpent Karai and she was able to spit out the Brain Worm, which means that she is now out of the control of the Shredder.