Mystic Donatello is one of the disguises of Donatello. This disguise represents his elemental Kanji, the "Mountain". Mystic Donatello debuts in Vision Quest.
Origins
Episodes
Gallery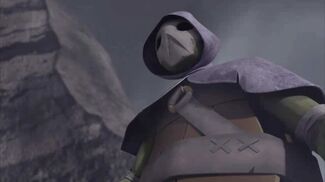 The Gallery of Mystic Donatello can be see Here.
Trivia
Donatello's Kanji is Zan or "Mountain".
The full phrase is "Be as immovable as a mountain".
The spirit that Donatello fought was Tiger Claw.