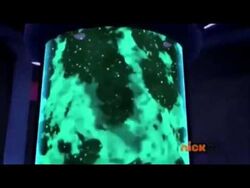 Mutagen Tank
is a gigantic glass and metal tank with
Mutagen
, a glowing, green substance, that is located inside
Baxter Stockman's Lab
. This tank is used so that Baxter can create his own mutants. Mutagen Tank debuts in
Mikey Gets Shellacne
.
Origins
Ever since Baxter Stockman left the Foot Clan, he wanted to do something more. He decided to create his own mutant army to command. So he added a Mutagen Tank to his lab.
TV Show
Mutants Created with Mutagen Tank
Gallery
Trivia
Ad blocker interference detected!
Wikia is a free-to-use site that makes money from advertising. We have a modified experience for viewers using ad blockers

Wikia is not accessible if you've made further modifications. Remove the custom ad blocker rule(s) and the page will load as expected.