Mozar (2015 Action Figure)
Information
Character
Mozar the Triceraton
Weapons
Plasma Cannon & Force Mine
Team
Released
2015
Toyline
TBA
Mozar (2015 Action Figure) is an action figure of the character, Mozar the Triceraton. This action figure doesn't have the exact look as in the series. This toy was released in 2015.
Description
Captain Mozar, leader of the Triceraton Empire, guides the Triceratons through the galaxy on their mission to eliminate the Kraang alien race. Mozar is a hulking Triceraton with a broken horn, scarred face, steel prosthetic beak, and has a relentless hatred for the Kraang. He won't let anything stand in his way of taking out the Kraang alien race, including the destruction on the Turtles' home planet, Earth! With the Triceraton's army backing him and his plasma cannon and force mine in each hand, he's prepared to do whatever is necessary to destroy the Kraang!
Weapons: Plasma Cannon & Force Mine
Team:
Accessories
Articulation
Gallery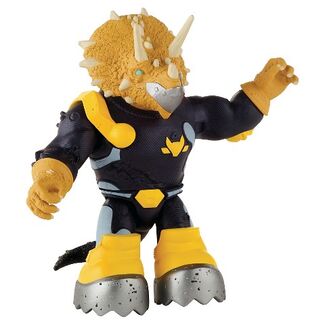 The Gallery of Mozar (2015 Action Figure) can be see Here.
Trivia
In its release, it will be a Walmart exclusive and be in other stores in 2016.
Ad blocker interference detected!
Wikia is a free-to-use site that makes money from advertising. We have a modified experience for viewers using ad blockers

Wikia is not accessible if you've made further modifications. Remove the custom ad blocker rule(s) and the page will load as expected.