M.O.U.S.E.R.S, aka Mobile Offensive Underground Search Excavation & Retrieval Sentries, are allies/ enemies of the Ninja Turtles. As little robotic minions that were originally invented by Baxter Stockman, they are very loyal servants to their masters for any purpose they provide them with. Stockman utilized the drones as an army of his own, and later on they started to be used by The Shredder and The Foot Clan. Eventually, other teams started to use Stockman's robots for their own purposes such as Karai's Foot Clan and Kraang Hive Mind. M.O.U.S.E.R.S debut in M.O.U.S.E.R.S Attack!.
Backstory
History
Appearance
Personality
Powers, Abilities, and Weaponry
Weaknesses
Relationships
Episodes
Gallery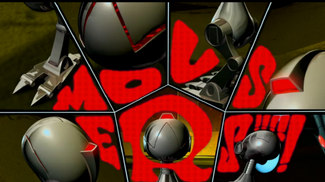 The Gallery of M.O.U.S.E.R.S can be see Here.
Trivia