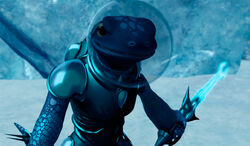 Laser Sword (Y'Gythgba) is a weapon of Y'Gythgba. This is a sword that belongs to Y'Gythgba that has a retractable blade made out of some type of blue laser, which she uses as her signature weapon. Laser Sword (Y'Gythgba) debuts in The Moons of Thalos 3.
Origins
TV Show
Episodes
Gallery
Trivia
Ad blocker interference detected!
Wikia is a free-to-use site that makes money from advertising. We have a modified experience for viewers using ad blockers

Wikia is not accessible if you've made further modifications. Remove the custom ad blocker rule(s) and the page will load as expected.