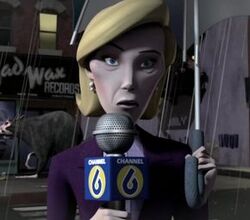 Joan Grody is a female human who hosts a TV Show known as Grody to the Max. Joan Grody debuts in It Came From the Depths.
Origins
TV Show
Episodes
Gallery
Trivia
It is unknown what happened to her in the Kraang Invasion, but it is possible that she got controlled by The Kraang, just like they did to Carlos Chiang O'Brien Gambe.
The phrase "Grody to the Max" is an '80s slang term meaning "totally disgusting".
Joan Grody seems to enjoy using alliterations in her show.

One example is, 'Are malicious mutants menacing Manhattan?'

Her design seems to be based on Greta Van Susteren of Fox News.
Ad blocker interference detected!
Wikia is a free-to-use site that makes money from advertising. We have a modified experience for viewers using ad blockers

Wikia is not accessible if you've made further modifications. Remove the custom ad blocker rule(s) and the page will load as expected.