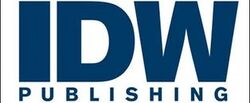 IDW Publishing
also known as Idea + Design Works, LLC and IDW is an American comics publisher that specializes in licensed properties. The company was founded in 1999. They currently produce TMNT comics,and comics based on the 2012 tv series called TMNT: New Animated Adventures.
Origins
Idea and Design Works (IDW) was formed in 1999 by a group of entertainment executives and artists that included Ted Adams, Robbie Robbins, Alex Garner, and Kris Oprisko to develop products related to video games, movies, TV, collectible card games, comic books and trading cards. In 2000, Idea and Design Works formed its publishing division, IDW Publishing and in 2007, IDT purchased a majority interest in IDW. Two of the original founders, Adams (CEO and Publisher) and Robbins (EVP), still actively manage the company, which has grown into a fully staffed publishing company.
Gallery
Trivia
Ad blocker interference detected!
Wikia is a free-to-use site that makes money from advertising. We have a modified experience for viewers using ad blockers

Wikia is not accessible if you've made further modifications. Remove the custom ad blocker rule(s) and the page will load as expected.