Hun is an enemy of the Ninja Turtles. He is a Chinese martial artist fighter from New York City that is the new leader of the Purple Dragons. He is a very slim, quick, and skilled fighter who always wears black shades. He has a rivalry with Casey Jones. Hun debuts in Casey Jones VS. The Underworld.
Origins
TV Show
Appearance
Personality
Powers, Abilities, and Weaponry
Weaknesses
Relationships
Episodes
Gallery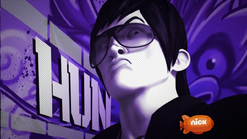 The Gallery of Hun can be see Here.
Trivia
He is the new leader of the Purple Dragons.
Eric Bauza voices Hun, who is also the voice of Tiger Claw.
This incarnation of Hun is actually different from the 2003 Hun.

This new Hun is skinny and small, while the 2003 Hun was big and bulky.
His hair is black and short, while the 2003 Hun's hair was blonde and long.
This Hun wears sunglasses, while the 2003 Hun didn't.

Like the 2003 Hun, he is also the leader of the Purple Dragons and also serves Shredder at times.
He is the first character in this show so far to be introduced with a title scene.
In most of his appearances, his purple title scene appears as his background.
Like the 2003 Hun, he hates Casey Jones.
Casey Jones and Hun are both rivals.
Unlike most humans, he seems to show no sign of fear towards the mutant henchmen of the Shredder.
Since he is part of the Purple Dragons, he owns Chinatown and also Auman Chemicals (which is inside the territory).
Similar to the 2003 Hun, he also has tattoos on his body.
Ad blocker interference detected!
Wikia is a free-to-use site that makes money from advertising. We have a modified experience for viewers using ad blockers

Wikia is not accessible if you've made further modifications. Remove the custom ad blocker rule(s) and the page will load as expected.