G'Throkka, aka Commander G'Throkka or Sal Commander, is an ally of the Ninja Turtles. As a Salamandrian from the Salamandrian Air Fleet, he serves the air fleet as one of their commanders. As the combat partner of Y'Gythgba, they both fight honorably for their species against enemies such as the Kraang Hive Mind or the Triceraton Empire. Once when she was stuck in Moon Of Thalos 3 alongside his partner and the crew member of the Ulixes, he started to bond more with the other crew. After he came to Earth to fight off K'Vathrak and Lord Vringath Dregg, he granted Y'Gythgba the permission to stay on Earth to alongside the Ninja Turtles and Mighty Mutanimals. He wields a sword, wrist laser blasters, and shoulder blasters as his signature weapons of choice. He has a rivalry with K'Vathrak. G'Throkka debuts in The Moons of Thalos 3.
Backstory
History
Meeting The Ulixes Crew
Teaming Up With The Ulixes Crew
Retrieving The Irrilium
Thanking The Ulixes Crew
Aftermath Of The War
Forceful Alliance With Lord Dregg
Setting Up The Ulixes Crew
G'Throkka's Betrayal
The Betrayal Of Dregg
Seeking Forgiveness
Initiation Of The Insectoid Invasion Of Earth
Failed Attempt To Fight Back
Granting Y'Gythgba Permission To Stay On Earth
Appearance
Personality
Powers, Abilities, and Weaponry
Weaknesses
Relationships
Episodes
Gallery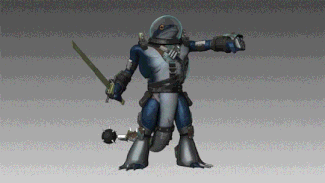 The Gallery of G'Throkka can be see Here.
Trivia