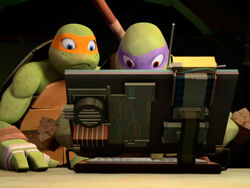 Donnie's Laptop is a laptop that was invented by Donatello. This laptop is commonly used by Donnie for information in the internet or for any of the missions that the Ninja Turtles have. Donnie's Laptop debuts in New Friend, Old Enemy.
Backstory
History
Episodes
Gallery
Trivia
Ad blocker interference detected!
Wikia is a free-to-use site that makes money from advertising. We have a modified experience for viewers using ad blockers

Wikia is not accessible if you've made further modifications. Remove the custom ad blocker rule(s) and the page will load as expected.