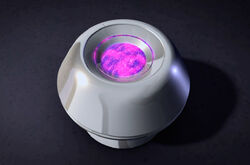 Dimensionizers are weapons of Krang. These are three little time bombs that were used by Krang that are strong enough to wipe out of all of the Turtle realities, with all three of them being plotted on Earth, 2-Dimensional Earth, and Mirage Earth. Dimensionizers debuts in Trans-Dimensional Turtles.
Backstory
History
Episodes
Gallery
Trivia
According to Krang, even if one of the Dimensionizers is deactivated, the remaining devices can still wipe out all the dimensions.
Ad blocker interference detected!
Wikia is a free-to-use site that makes money from advertising. We have a modified experience for viewers using ad blockers

Wikia is not accessible if you've made further modifications. Remove the custom ad blocker rule(s) and the page will load as expected.