Casey Jones, aka Casey, is an ally of the Ninja Turtles. He is a human teenager from New York City who is a hockey player and student from Roosevelt High School. During the time that he met April O'Neil, he has had many encounters with mutants and the criminal underworld of New York. This inspired him to become a vigilante and later on meeting the Ninja Turtles and Splinter, who were April's "secret friends". After allying himself with this mutant team and becoming a part of their missions, he has struggled to prove himself as a good fighter, due to his ignorance, anger issues, and cockiness. He wields Hockey Sticks, Baseball Bats, Hockey Pucks, Explosive Pucks, Photon Pucks, and an Electric Glove as his signature weapons of choice. He is in love with April O'Neil. He also has a rivalry with Raphael, Donatello, Jason/ Mondo Gecko and Hun. Casey Jones debuts in Mutagen Man Unleashed.
Backstory
Born in 1995 in New York City, he was given birth by an unknown female. His father was a former NHL player. He was named by the family, Casey Jones.
History
Appearance
Personality
Powers, Abilities, and Weaponry
Weaknesses
Relationships
Episodes
Gallery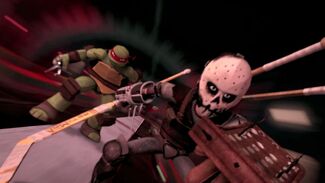 The Gallery of Casey Jones can be see Here.
Trivia
Ad blocker interference detected!
Wikia is a free-to-use site that makes money from advertising. We have a modified experience for viewers using ad blockers

Wikia is not accessible if you've made further modifications. Remove the custom ad blocker rule(s) and the page will load as expected.