Baxter Stockman
Information
Baxter Stockman is an enemy of the Ninja Turtles. He is an African American technological genius with an evil personality who formerly worked for T.C.R.I., until he was fired from the place after being blamed for supposedly breaking a printer. He now serves The Foot Clan as their scientist who searches for revenge on anyone who messes with him. Baxter Stockman debuts in I Think His Name is Baxter Stockman.
Origins
TV Show
Appearance
Personality
Powers, Abilities, and Weaponry
Weaknesses
Relationships
Inventions
Episodes
Gallery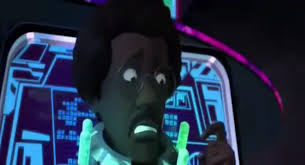 The Gallery of Baxter Stockman can be see Here.
Trivia
Ad blocker interference detected!
Wikia is a free-to-use site that makes money from advertising. We have a modified experience for viewers using ad blockers

Wikia is not accessible if you've made further modifications. Remove the custom ad blocker rule(s) and the page will load as expected.