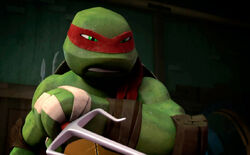 Bandanna (Raphael) is a head wear of Raphael. This is a red bandanna that Raphael wears on his face. Bandanna (Raphael) debuts in Rise of the Turtles Part One.
Origins
TV Show
Episodes
Gallery
Trivia
Compared to the other bandannas, this bandanna is the second longest of the Ninja Turtles. Also this bandanna has a worn look.
This bandanna represents the anger of Raphael.
Ad blocker interference detected!
Wikia is a free-to-use site that makes money from advertising. We have a modified experience for viewers using ad blockers

Wikia is not accessible if you've made further modifications. Remove the custom ad blocker rule(s) and the page will load as expected.