April Derp is an enemy of the Ninja Turtles. She is a giant, deformed clone of April O'Neil that was accidentally created by The Kraang when attempting to create April Derp Clones. She was placed in the reject bin by The Kraang, where she was preserved, and was later unleashed on the Turtles when they invaded T.C.R.I. once again. April Derp debuts in The Kraang Conspiracy.
Origins
TV Show
Appearance
Personality
Powers, Abilities, and Weapons
Relationships
Episodes
Gallery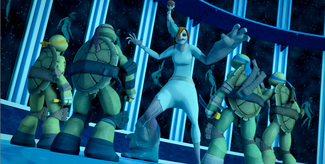 The Gallery of April Derp can be see Here.
Trivia